PATS Telford – 24-25 September
Harkers will be showcasing some exciting new products on their sister company's stand at the 2017 PATS show taking place in Telford in September, sitting alongside some old favourites.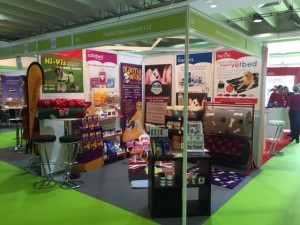 Alongside Petlife International on stand E40, Harkers will be showcasing recently launched new products including Adenocaps capsules – an easy way to administer treatment to help prevent and conquer stress-related illnesses in young birds. Harkers' full range of healthcare and hygiene products for racing pigeons will also be on display at this year's show.
Taking centre stage on the stand will be the award winning Vizlite® Jacket – which launched at PATS Sandown earlier this year and uses latest UV light technology to provide high visibility for both dog and walker in all conditions and for hours; without the need for any batteries, electricity or wires. The coats are made from Flectalon fabric which is lightweight and extremely thermally efficient. Vizlite was voted favourite product by retailers at The Trust Pet Products Trade Show 2017. Petlife's Christmas Vetbed® collection will be on display at PATS and will include a new light blue design with white snowflakes.
For small animal buyers the recently rebranded range of Natural Science supplements from Oxbow will also be on show. Along with bestsellers Western Timothy and Alfalfa Hays, Simple Rewards Baked Treats and Pure Comfort bedding.
You will find the Petlife team on stand E40 with a full range of dog, cat and small animal products including many popular products such as Vetbed®, Otodex and Safebed and the Harkers range of healthcare and hygiene products for racing pigeons.
There will be exclusive PATS deals, only available when visiting our stand and across our full range – including money off and multi buy offers.
We look forward to seeing customers old and new at PATS, if you can't make it but would like more information on any of the products mentioned, give our sales team a call on 01284 761131.
***********************************************************************************************************
Now available from Harkers – Adenocaps – proven to help treat and prevent young bird sickness.
From a young age racing pigeons are prone to stress related racing issues including young bird sickness. Poor health in pigeons can have a drastic effect on performance.  If caught early it can be nipped in the bud returning the bird to top racing performance and very quickly.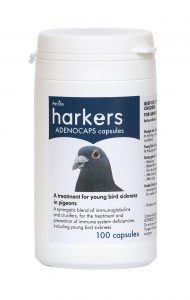 Harkers' latest product, Adenocaps, presents an easy way to administer a treatment to help prevent and conquer stress-related illnesses in young birds. Harkers Adenocaps contain immunoglobulins and selected crucifiers to enhance a bird's natural immunity to illness. The new capsule form makes dosing easy to administer and with 100 capsules per tub, it can cost as little as 40p per treatment.
Harkers Adenocaps can be used as a preventative as well as a cure. It can be used,
At first signs of sickness
To accompany treatment of trichomonas infection (canker)
During stress periods such as weaning and after training and racing
Before and after vaccinations
Mr Petale, a pigeon fancier from Stirlingshire recommends Adenocaps, "I have trialled Adenocaps and during this period I have seen no new cases of young bird sickness, to say I am delighted is an understatement. I cannot recommend Harkers Adenocaps highly enough".
For more information on Adenocaps or any of the Harkers range contact us on 01284 761131
***********************************************************************************************************
Wonder Pigeon from Harkers – now available as a trial size
Harkers "Wonder Pigeon" a remedy designed to treat against intestinal bacteria is now available to purchase in a new 150gm trial size – allowing your customers to try the product before purchasing the larger 500gm or 1kg size.
Originally only available in the zoological market for intestinal diseases, it has been thoroughly tested on pigeons, producing astonishing results.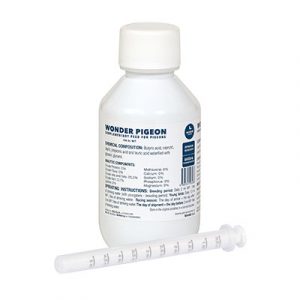 "Wonder Pigeon" contains a patented mixture of essential fatty acids (bound with glycerol to monoglycerides) with a natural antibacterial activity to kill intestinal bacteria fast and aid a speedy recovery.
Wonder Pigeon is designed to-
Aid in the correction of digestion
Increase the appetite
Improve recovery of the intestinal flora
Strengthen the natural resistance
Boost the immune system
Support the metabolism
Increase nutrient absorption
Wonder Pigeon can be used as an alternative for many medical and other products on the market. It is as close to a perfect solution as could possibly be. It improves digestion, conditioning and assists flight training. By improving digestion, it will promote overall condition. By administering a small daily dose up to 4ml, depending on the time of year, it will reduce the need for antibiotics and other medication. Wonder Pigeon is one of only a few products on the market that are effective against young bird sickness when used continuously.
Top Fanciers across the UK have been using Wonder Pigeon. Feedback so far includes a big improvement in plumage and general condition in birds given the product compared to birds who were not. Rounder and harder droppings were also noted.
B.R Holroyd Netherton, West Yorkshire has been using the product "I have used Wonder Pigeon during my breeding season. I had a 98% hatch rate and I am very pleased with the results. The young birds are strong and healthy, the droppings remain firm and the feathering of the birds is excellent. All my old, young and stock birds are in a healthy, good condition after using Wonder Pigeon and Hormoform and I intend on using both during the whole of the racing season"
"Without question, Wonder Pigeon from Harkers has got to be the finest and best product I have used these past 50 years, in breeding and racing pigeons. More to the point such tried and tested products can also be given in conjunction with Wonder Pigeon" Richard Boylin, French Pigeon Breeder.
"Wonder Pigeon is a great product, within two weeks of using I have seen a difference in the condition of my birds, their feather quality has improved and their general health is better, I have also not seen any young bird sickness since introducing" Mark Gilbert.
You can order the new 150gm trial size Wonder Pigeon direct from our sales team by calling 01284 761131 or by visiting the trade section of our website here. Wonder Pigeon is also available in a 500gm and 1kg size.
For more information on Wonder Pigeon or any of the Harkers range contact us on 01284 761131
***********************************************************************************************************
10% extra in the 2.5kg bag – whilst stocks last 
Launched in 1954, Hormoform is the leading feed supplement for racing pigeons. Hormoform was probably the first tr
uly scientifically formulated supplementary feed offered to racing pigeons and the results were truly remarkable.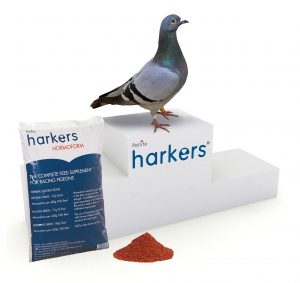 Since it's introduction, demand for Hormoform has increased with most important races being won by birds prepared by Hormoform – fanciers have satisfaction and confidence in the product.
Why Hormoform?
Designed to fill any shortfall in the staple diet, whether breeding, racing or during the moult
Natural source of carbohydrates and fibre – increases palatability and aids digestion
Contains high levels of amino acids aiding muscle growth, promoting better feathering and improving egg/chick size and vitality
Made using only quality ingredients
Contains essential fatty acids that cannot be reproduced in the body aiding cellular repair, promoting better eyesight when flying and improving fertility and hatchability
High in vitamins promoting strong bones and increasing protein synthesis, leading to improved flight ability
Whilst stocks last, 2.75kg for the price of 2.5kg(applies to 2.5kg bag only) 
Place an order today and give your customers even more reason to buy Hormoform from you! 
Call 01284 761131 for more information and to order.

***********************************************************************************************************
PATS Sandown – 21-22 March
Petlife International and Harkers will once again be exhibiting at PATS Sandown on the 21st and 22nd March. Returning to stand E8 in the Surrey Hall, we'll be showcasing old favourites with new designs as well as brand new products for 2017.
On the stand, there will be the Harkers range of healthcare, hygiene and feed supplements for racing pigeons, including two new products recently launched and well received, the 4 in 1 Spot On and Ridmite.
Also, the ever popular Vetbed® range alongside a brand-new design for the spring and the recently re-packaged Vetbed® Gold. Alongside this, the Oxbow range of feeds, treats and supplements for small herbivores as well as An o

ld favourite Safebed will be available as well as the Wipeout Household Flea Spray with a brand-new look.
Making its debut appearance at PATS, an exciting development on our already popular 3 in 1 Hi-Vis Dog Jacket to further enhance the ability to keep owners and dogs safe on winter walks, the 'Petlife VizLite Dog Jacket'. With a light reflecting strip that doesn't just reflect light but charges under light, without electricity or batteries and emits it for up to 8 hours, whilst remaining lightweight and extremely thermally efficient.
We look forward to seeing customers old and new at PATS, if you can't make it but would like more information on any of the products mentioned, give our sales team a call on 01284 761131.
***********************************************************************************************************
PATS Telford 2016.
Our full range of Harkers products will be on show at PATS Telford, on the 25th and 26th of September at the International Centre in Telford.
Alongside firm favourites Hormoform and Wonder Pigeon will be the most recent addition to the range, the 4 in 1 tablets, a single tablet treatment for canker coccidiosis, worms and external parasites.
A popular place for customers old and new to meet up, we'll be on hand with product information, advice and special show offers on stand E40.
Harkers will be situated on the Petlife International stand, sitting alongside the range for birds will be many old favourites for dogs, cats and small animals. We have a cracker of a showcase of unique and original festive Vetbed designs, for Christmas 2016. Visitors to PATS 2016 can take advantage of some great show offers including 5 + 1 free or buy 2 get 1 half price on all Vetbed rolls and pre-cut pieces. A firm favourite with dog and cat owners. Just one of many special offers exclusive to the stand at the show.
We will also be launching brand new, eye catching, packaging for the Oxbow range of fortified feeds for small animals. The new look is purposely designed to really stand out on the shelf whilst reassuring the content is still the favourite premium fortified feed for pet owners.
We hope to see you there on stand E40.
***********************************************************************************************************
PATS Sandown 2016

A perennial favourite with the Petlife team, PATS Sandown 2016 once again confirmed its place as a 'must attend' event. Launching the Christmas 2016 Vetbed designs as the clocks went forward for British summertime didn't put the visitors to the stand off with plenty of interest from trade, particularly the red and white snowflake design.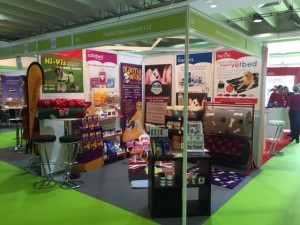 Keeping up with latest current colour trends, the newest addition to the Vetbed range, purple with white hearts, bones and paw prints was the top seller from the huge range of colours and designs available in original Vetbed, Non- Slip and Gold. Footfall was busy at the show with a good number of new customers, including many from overseas. Petlife supplies products worldwide and is a recognised brand in many overseas markets.
Attending the show is as much about meeting existing customers as it is about building new relationships, old or new faces it's always a pleasure.