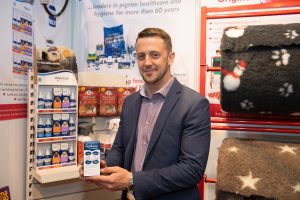 Returning to the Telford International Centre for another year at annual trade show PATS Telford, Harkers and its sister company Petlife International took their usual stand space on E40 on the 23-24th September to meet pet trade buyers from across the UK.
This year marks a special occasion for Harkers' sister company Petlife International, as they celebrate their 25th anniversary in the pet trade world. And to add to the celebrations, Harkers won an award in the show's New Product Showcase – winning the prize for the bird product with their Harkers 4 in 1 Soluble, beating some tough competition.
Harkers 4 in 1 Soluble is for the treatment and prevention of canker, coccidiosis, worms and external parasites (lice and mites), via the drinking water and reduces the need for administration of multiple medicines.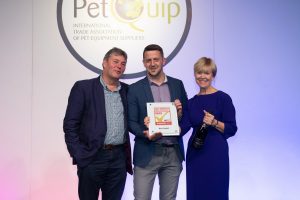 "We are thrilled to win the PATS New Product Showcase Award for best bird product – Harkers 4 in 1 Soluble for pigeons is the result of tireless research and innovation, and the award is recognition of all the hard work and dedication that the entire Petlife and Harkers team display on a daily basis" James Hancock, Sales and Marketing Director for Petlife and Harkers.
At the show the team also unveiled their 2018 Christmas Vetbed® range to visitors, featuring a charcoal with snowmen design, as well as a light blue with white and dark blue swirls and snowflakes and a catchy "I believe in Santa Paws" design – all being very well received.
The team are now gearing up for another trade show this time in the veterinary industry – the London Vet Show 15-16th November at the ExCel, just before a busy Christmas period.