On the run up to a new pigeon racing season it is always worthwhile to reflect on the previous year and look forward to the aims and ambitions for the coming season. The important factor is that previous performances count for nothing and before that first flight in April everyone is level and equal with no prizes won.
I enjoyed one of my best racing seasons in 2015 winning 7 x 1st Section in National racing along with 7 Club wins. The National Section wins secured 5th Open in the National Flying Club and on another occasion 5th Open in the British Barcelona Club. Therefore aims for the 2016 season would be to increase the number of 1st prizes and to get into the top 4 in 2 or 3 National races. My main target for the season is the Barcelona National/International and at a distance of 697 miles this is the longest race that I can compete in. It requires top quality birds with good experience of flying from France that have had an unbroken preparation including several flights of 7 or 8 hours flying time.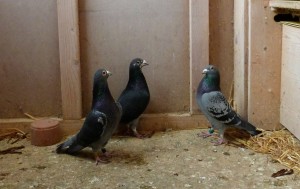 I have a maximum of 3 widowhood cocks in mind for the task (see photo on left), and preparing these candidates is to me the ultimate challenge for the season. Having been 2nd in 2008 and 2011 and 1st in 2009 I hopefully know how to go about it. My biggest worry at this stage is the ever increasing number of raptor attacks that can occur on a daily basis, so part of the conundrum is can my 3 candidates get to the race and come through it unscathed.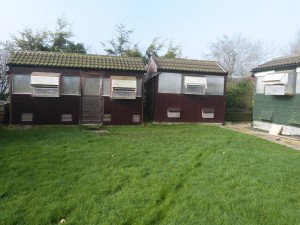 The photograph on the right shows my 3 widowhood lofts which in total houses my team of 44 widowhood cocks I also race 10 hens and this completes my old bird race team. I compete in all the most prestigious National races in the calendar and use the club and Fed racing for preparation flights and to give my youngsters and yearlings race experience.
I have a separate stock loft which houses several retired National and multiple 1st prize winners and their close relatives; mainly children of the best long distance birds. There are some recent acquisitions and some young and untried birds but all are lovely specimens with potential. These birds should supply me with good quality future racers and breeders.
Every racing pigeon fancier in the country will most likely wish for a successful breeding season when they can produce a strong and healthy young bird team. I use good quality food from Countrywide Feeds and Versele Laga and keep the birds supplied regularly. The future of the loft depends on producing high class future racers and breeders and this is where Harkers Hormoform is in my opinion absolutely vital. Even though I use it to help condition my long distance race birds it is in the growth and development of my pigeon babies where I believe it has the most beneficial effect. There is such a noticeable difference between youngsters reared with Homoform and those reared without it that anyone could see the difference. Quality, strong and healthy young birds are the future of any loft and solid foundations are essential for anyone wanting to make their mark in pigeon racing.
Ever since I came across the Young Bird Darkness System in 1994 my racing youngsters have undergone the Darkness routine from weaning to mid June each season. This has enabled me to have my youngsters in perfect feather for the 'big races' in August and September and using these tactics I have been well rewarded most seasons.
Last year I won a breeder buyer race with my own bought back bird on the 19th September, taking the £1000 first prize.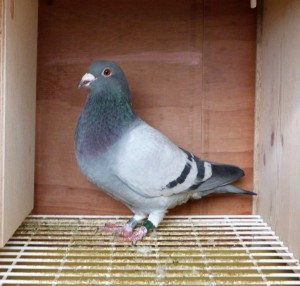 This winning bird had moulted through nicely and changed all of his feathers by mid December (see photo on left).
He is just one of the yearlings and potential superstars that I am looking forward to racing through the summer and seeing what they can achieve in 2016.