The Blackpool 2016 Show of the Year was a great success for Harkers. As well as showcasing lots of fanciers' favourite products, we launched two brand new ones: Harkers 4 in 1, selling out by Saturday afternoon, and Harkers Pro B for intestinal health.
We presented our 2015 Bird of the Year winners with their trophies and enjoyed meeting new contacts and catching up with some familiar faces.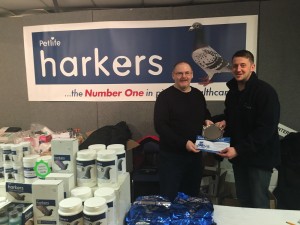 (Dave Fare pictured accepting the Bird of the Year award on behalf of the winner of the 'less than 300 mile category' Mr G Sanders)
James Hancock, Sales and Marketing director at Harkers commented "Blackpool 2016 was perhaps our best show to date – demand for our new 4 in 1 tablets for canker, cocci, worms and external parasites far exceeded expectations, in fact we had sold out by 12.00 noon on Saturday and had to call in the cavalry to bring more stock to us! Many fanciers are already requesting a soluble version, which is something we'll certainly look into for next year. Our new probiotic Harkers Pro B for intestinal health was well received, along with old favourites 3 in 1, Spartrix and Coxoid. Hormoform remains as popular as ever and many fanciers continue to use it as part of their daily routine. Blackpool is always a great place to meet with friends and colleagues old and new, and it was good to see a larger number of younger and new fanciers this year – who are of course the life blood of our sport. See you all in 2017!"
Our brand new Harkers website will be launching soon. To be kept up to date with the launch, latest news, products and events, sign up to our mailing list here.