Officially launched at the British Homing World Show of the Year, Harker's have unveiled the latest addition to their extensive product range of treatments and nutritional products for homing, racing and show pigeons
The new and exclusive probiotic, in powder format, has been proven to improve the intestinal condition in birds. The formula contains "Calsporin" a good bacteria which has been EU approved for avian species.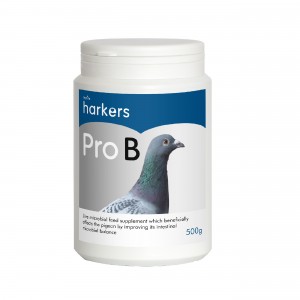 Using Pro B as a supplementary feed will improve a pigeon's intestinal balance and its natural resistance to disease. It also assists with the absorption of nutrients and promotes a more solid and rounder dropping.
Pro B is available in a 500g tub and the dosage guidelines are 1g of Pro B per 100g of feed daily.
James Hancock, Sales Director at Harkers "If a fancier is keen to keep their pigeons in tip top condition then Pro B should be on the top of the shopping list. Keeping a pigeon's digestive system healthy is paramount. Using Pro B on a regular basis can help to increase a pigeon's natural resistance to disease which can make quite a difference to their performance whether breeding, racing or during the moult".