Launching a brand new product at the 2017 Blackpool Show of The Year on Saturday 21st and Sunday 22nd January, Harkers will give visitors to their stand the chance to be the first to hear about the new Harkers 4 in 1 Spot On treatment and will be able to purchase it at the event, before going on sale through the trade and on our website afterwards.
Click here to see more information.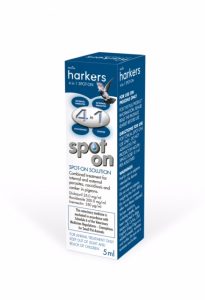 Harkers 4 in 1 will revolutionise the way pigeon fanciers control parasites on their birds. One simple treatment will prevent infection from canker, cocci, worms and external lice and mites. A simple single drop saves the need to apply several different products, and with that, saves on the cost of multiple purchases of separate medications. Visitors to the Blackpool Show can also take advantage of a 10% discount when presenting the voucher available below, which will also be available in the British Homing World and Racing Pigeon magazines in the lead up to the show.
Aside from the exclusive launch of the new products Professor John E Cooper FRVCS, Harkers veterinary advisor, will be on the stand each day to answer questions on the new products as well as existing favourites. Professor Cooper has many years' experience of working with birds and is the author of numerous books and articles on avian medicine. He will have a microscope to hand at the show and is willing to look at droppings, feathers and other samples from fancier's birds – simply bring your samples along to our stand. This is a unique opportunity for some free of charge on the spot diagnosis and advice.
The Harkers team have been supporting the Blackpool Show for many years, a favourite for the in-house team. We look forward to meeting customers old and new at the 2017 show.