Harkers "Wonder Pigeon" a remedy designed to treat against intestinal bacteria is now available to purchase in a new 150gm trial size.
Originally only available in the zoological market for intestinal diseases, it has been thoroughly tested on pigeons, producing astonishing results.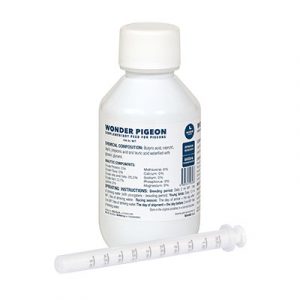 "Wonder Pigeon" contains a patented mixture of essential fatty acids (bound with glycerol to monoglycerides) with a natural antibacterial activity to kill intestinal bacteria fast and aid a speedy recovery.
Wonder Pigeon is designed to-
Aid in the correction of digestion
Increase the appetite
Improve recovery of the intestinal flora
Strengthen the natural resistance
Boost the immune system
Support the metabolism
Increase nutrient absorption
Wonder Pigeon can be used as an alternative for many medical and other products on the market. It is as close to a perfect solution as could possibly be. It improves digestion, conditioning and assists flight training. By improving digestion, it will promote overall condition. By administering a small daily dose up to 4ml, depending on the time of year, it will reduce the need for antibiotics and other medication. Wonder Pigeon is one of only a few products on the market that are effective against young bird sickness when used continuously.
Top Fanciers across the UK have been using Wonder Pigeon. Feedback so far includes a big improvement in plumage and general condition in birds given the product compared to birds who were not. Rounder and harder droppings were also noted.
B.R Holroyd Netherton, West Yorkshire has been using the product "I have used Wonder Pigeon during my breeding season. I had a 98% hatch rate and I am very pleased with the results. The young birds are strong and healthy, the droppings remain firm and the feathering of the birds is excellent. All my old, young and stock birds are in a healthy, good condition after using Wonder Pigeon and Hormoform and I intend on using both during the whole of the racing season"
"Without question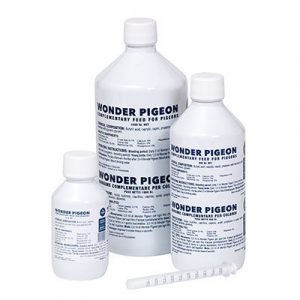 , Wonder Pigeon from Harkers has got to be the finest and best product I have used these past 50 years, in breeding and racing pigeons. More to the point such tried and tested products can also be given in conjunction with Wonder Pigeon" Richard Boylin, French Pigeon Breeder.
"Wonder Pigeon is a great product, within two weeks of using I have seen a difference in the condition of my birds, their feather quality has improved and their general health is better, I have also not seen any young bird sickness since introducing" Mark Gilbert.
Wonder Pigeon is now available from reputable pigeon suppliers across the UK or via Harkers direct here in the 150gm trial size. Wonder Pigeon is also available in a 500gm and 1kg size.