From a young age racing pigeons are prone to stress related racing issues including young bird sickness. Poor health in pigeons can have a drastic effect on performance.  If caught early it can be nipped in the bud returning the bird to top racing performance and very quickly.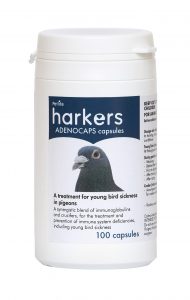 Harkers' latest product, Adenocaps, presents an easy way to administer a treatment to help prevent and conquer stress-related illnesses in young birds. Harkers Adenocaps contain immunoglobulins and selected crucifiers to enhance a bird's natural immunity to illness. The new capsule form makes dosing easy to administer and with 100 capsules per tub, it can cost as little as 40p per treatment.
Harkers Adenocaps can be used as a preventative as well as a cure. It can be used,
At first signs of sickness
To accompany treatment of trichomonas infection (canker)
During stress periods such as weaning and after training and racing
Before and after vaccinations
Mr Petale, a pigeon fancier from Stirlingshire recommends Adenocaps, "I have trialled Adenocaps and during this period I have seen no new cases of young bird sickness, to say I am delighted is an understatement. I cannot recommend Harkers Adenocaps highly enough".
For more information on Adenocaps or any of the Harkers range contact us on 01284 761131